Realtor Donna Darnes Awarded Crye-Leike's Circle of Excellence
Ooltewah, TN (Feb, 2019): Crye-Leike Real Estate Services recognizes Donna Darnes of Crye-Leike Ooltewah, with the company's highest award, the Circle of Excellence and honorary title of Vice-President. Crye-Leike Real Estate Services is the nation's third largest privately-held residential real estate firm and the largest in the Mid-South.
To earn this award and title, sales associates must meet specific requirements to include: advancement in their studies through obtainment of real-estate designations within their respective fields, maintain exemplary ethical behavior throughout their careers, record five or more continuous years with Crye-Leike, become a lifetime member of Crye-Leike's Multi-Million Dollar Club, and have served or are serving as chair or vice-chair on one or more standing committees at a local Board of Realtors, or in a leadership position with a board based community service organization.
"This award recognizes those unique individuals who attain the highest level of professional development," said CEO and Co-Founder Harold Crye of Crye-Leike Real Estate Services. "The requirements are stringent, yet a growing number of our sales associates continue to respond to this challenge and become what we refer to as "The Best of the Best."
With over 13 years of real estate experience, Donna Darneshas served the Southeast Tennessee area specializing in residential buyers and sellers and relocation services. A Crye-Leike Multi-Million Dollar Club Producer, she has earned multiple real estate designations to include Graduate, Realtor Institute (GRI), At Home With Diversity (AHWD), ePRO certified, and Certified Residential Specialist (CRS).
"I am proud to be recognized for earning the company's highest level of achievement," said Darnes. "Real estate is my passion and to have a company like Crye-Leike recognize that hard work and passion through this award is an honor." Darnes will now wear the gold and diamond lapel pin as a symbol of her achievement in real estate.
For further information about real estate in and around Southeast Tennessee, visit Crye­Leike's Ooltewahbranch office, located 5913 Main Street, Ste. 107 or visit Crye­Leike's website at www.crye­leike.com. Vice President Donna Darnes may be reached at 423-544-1906or donna.darnes@crye-leike.com.


ABOUT CRYE-LEIKE: Crye-Leike Real Estate Services (www.crye-leike.com), a full service real estate company for over 40 years, is ranked as the third largest independently-owned real estate firm in the nation and the largest serving Tennessee, Arkansas, Mississippi and the Mid-South. Crye-Leike has more than 3,200 sales associates, 800 employees and 128 company-owned and franchise offices spread across nine states. It generated $6.5 billion in sales volume and 30,550 closed transaction sides corporate wide in 2018 – its biggest year ever - and is on track to achieve the company's goal of $6.8 billion in sales volume this year.
---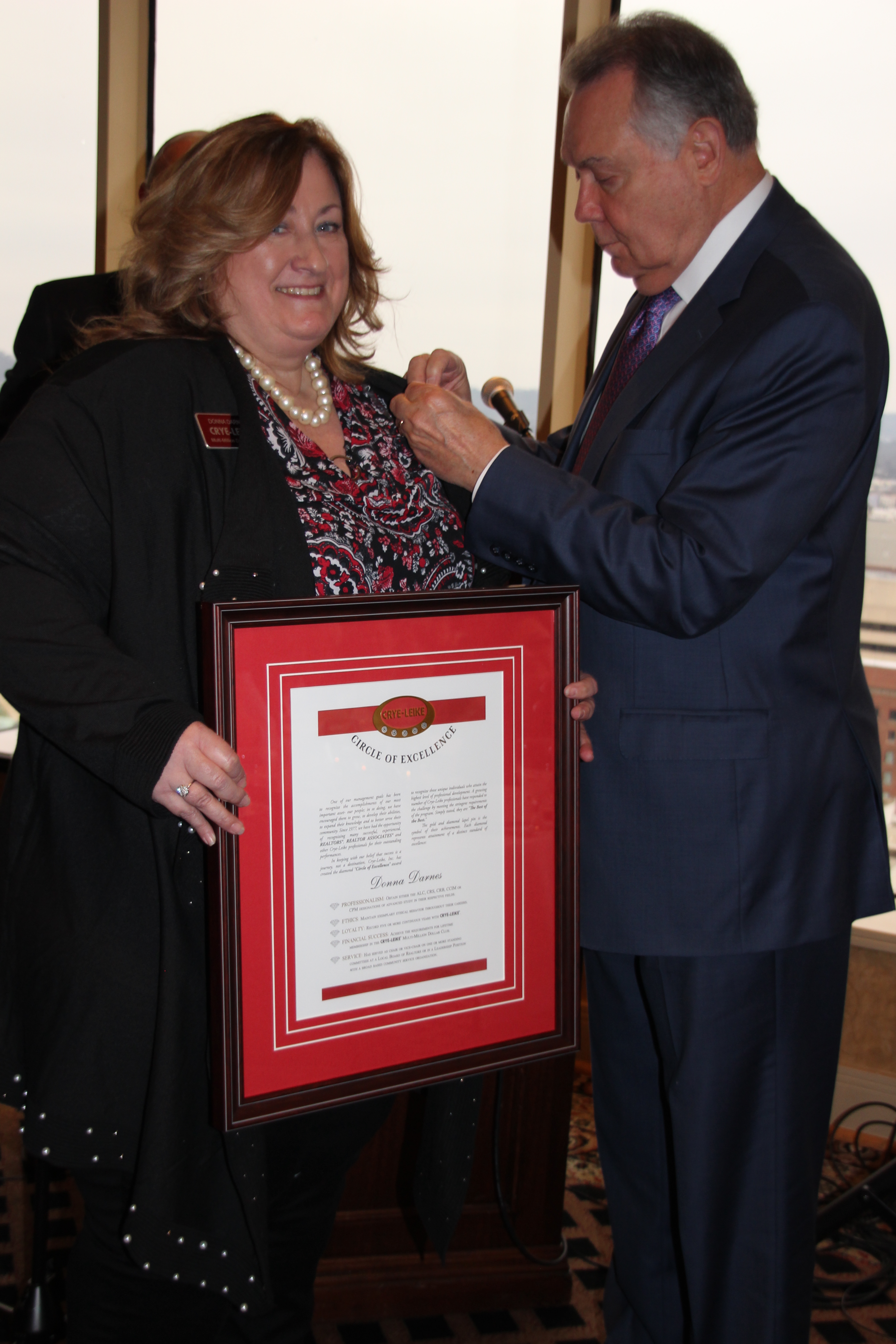 n